A list of public (upcoming and past) trainings is available in Events->Training section. Next session is scheduled to February 2021: A practical introduction to BLE security.
Can't make it to public training? A tailor-made training will come to you - now online!
Besides adapting to your own time zone and favorable date, the private training can be personalized to your individual needs. Whether you are a group of developers, pentesters or managers, we will focus on the topics and aspects that really matter to you. You can arrange own content out of several independent training modules, making it 1, 2 or even 5-day long. The current core modules include Bluetooth Low Energy and NFC/RFID security. Other topics (including Software Defined Radio, embedded, hardware , home automation, …) are also possible.
To have an initial idea of example training agenda, have a look at previous public trainings.
How does it work?
Online
Despite being heavily related to hardware, trainings are fully adapted for virtual participation. All the practical exercises are designed to be performed using provided hardware sets - shipped to attendees prior to the session. This unique approach allows for hands-on experience without troublesome travel, from convenience of your home. And also by the way - allows for repeating the exercises any time later.
The hardware included comes in several options and depends on the training agenda and individual needs. Core set includes: Proxmark3, vulnerable access control system, Chameleon Tiny, Raspberry Pi with various software and NFC PN532, preconfigured, rooted Android mobile phone, Field detector and dozen of various tags (including "magic" ones) to practice cloning, cracking etc. For Bluetooth it includes BLE development board with specially designed training firmware device, debugger to flash the board, BLE hardware sniffer, USB dongles, BLE software on Raspberry Pi and compatible Android mobile phone.
A sample hardware set: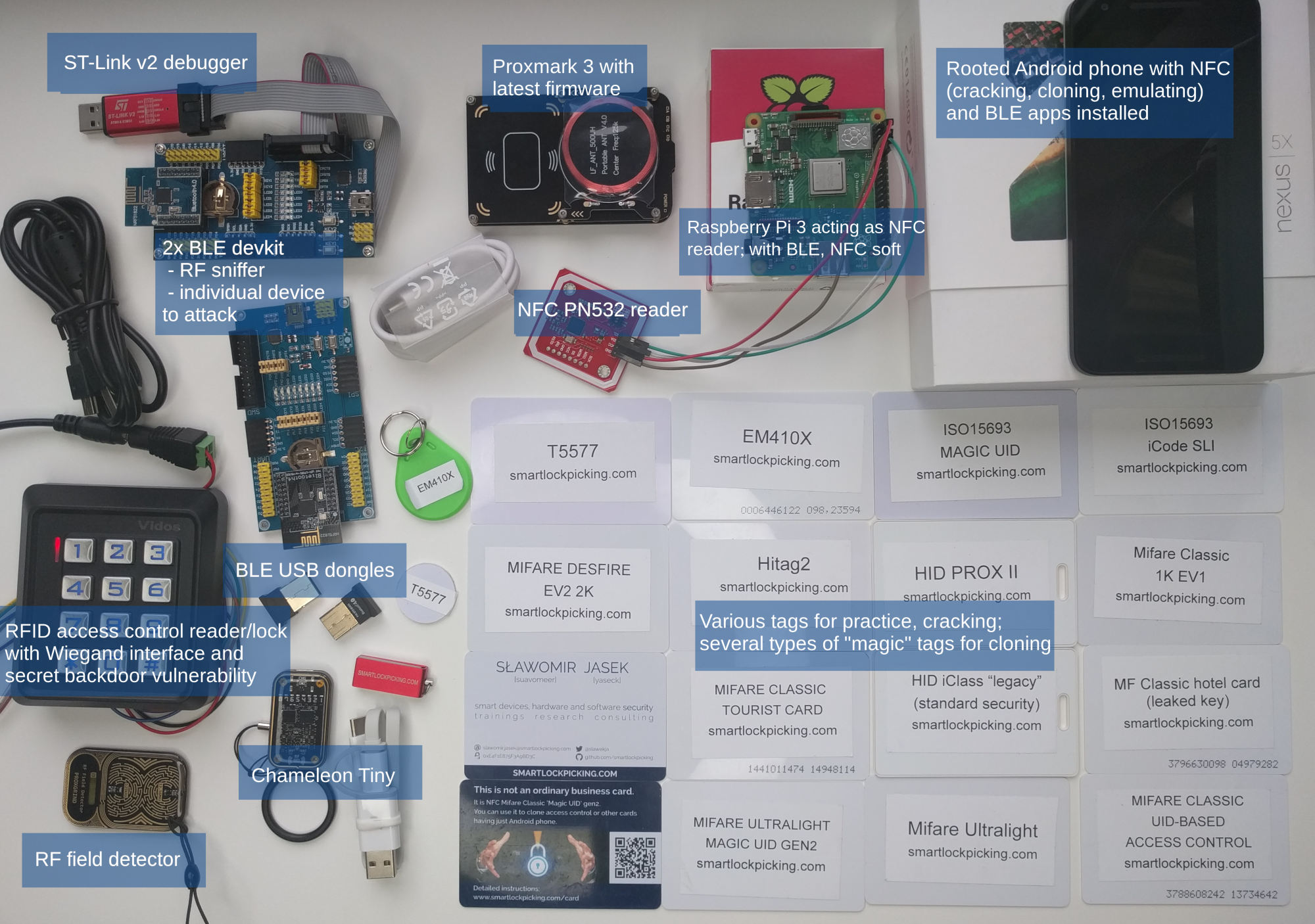 Onsite
Once COVID-19 travel restrictions are lifted, it is possible to arrange an onsite training at your own location. The hardware for hands-on exercises is provided for all the students, but any number of sets can be included as take-away.
Previous trainings feedback
Trainee's quotes
Well prepared training, due to the amount of tools and equipment also easy to continue at home.
Trainer did a good job in preparing all the labs. Really gorgeous.
The best thing with this course is the instructor and our ability to do all exercise back at home .
Great instructor, well maintained materials had a lot of experience.
I am amazed how well everything is prepared.
Great instructor, lot's of information, topics and exercise to practise at home.
Get a quote
The private training may make sense for group even as small as 3 people. The price will depend on location, number of students, training modules, length, included takeaway hardware, optional customizations.
Please contact us for the details, or fill in the form below: